Zoosk is an international online dating platform that has been around for 13 years – that is since 2007. Most other dating websites are recognizable, no matter how old they are, but not Zoosk. If you haven't been a user on Zoosk for a long time, you will probably not recognize it anymore. In its early days, it used to be a Facebook app for meeting people, but after many years, it is now standalone dating service.
Zoosk currently has over 40 million members from over 80 countries, which is an impressive number of users for an online dating platform. But despite its popularity, not all feedback from its users has made a good reflection of this. Zoosk reviews variou from negative to positive. Various people have commented on the lack of functionality of the website compared to other similar dating services. But, we were not going to take their word for it, which is why we have conducted our own research and analysis to help you decide whether or not you should invest your time into using Zoosk to find your lifetime partner.

Homepage & Registration
The homepage of any online dating site is where one's love journey starts, but this is one is somewhat plain and overly basic. We don't get any introduction to the main functions nor the benefits of using the site, but just a mere registration form. However, the good thing is the sign-up process doesn't take long to complete – it can be done within a couple of minutes or even quicker if you opt for sign-up using your Google or Facebook account. As for Zoosk review report, registration is very satisfying. Once your account is created, a confirmation link will be sent to your provided email for verification.
Although the registration may be considered complete at this stage, we do recommend spending a few more minutes on the next part, which is to answer several questions about yourself and your intentions on Zoosk. This will help you get better matches later so we don't suggest skipping it.
Platform Diversity
In this day in age, mobile apps are the norm for any kind of communication, including dating, but not many dating platforms realize this. Zoosk is different, however, and has gone and made its services available on both iOS and Android as well as via the normal desktop website. Most people already spend most of their time on their phones anyway, so you might as well make good use of that time in finding your special someone.
Profiles and Search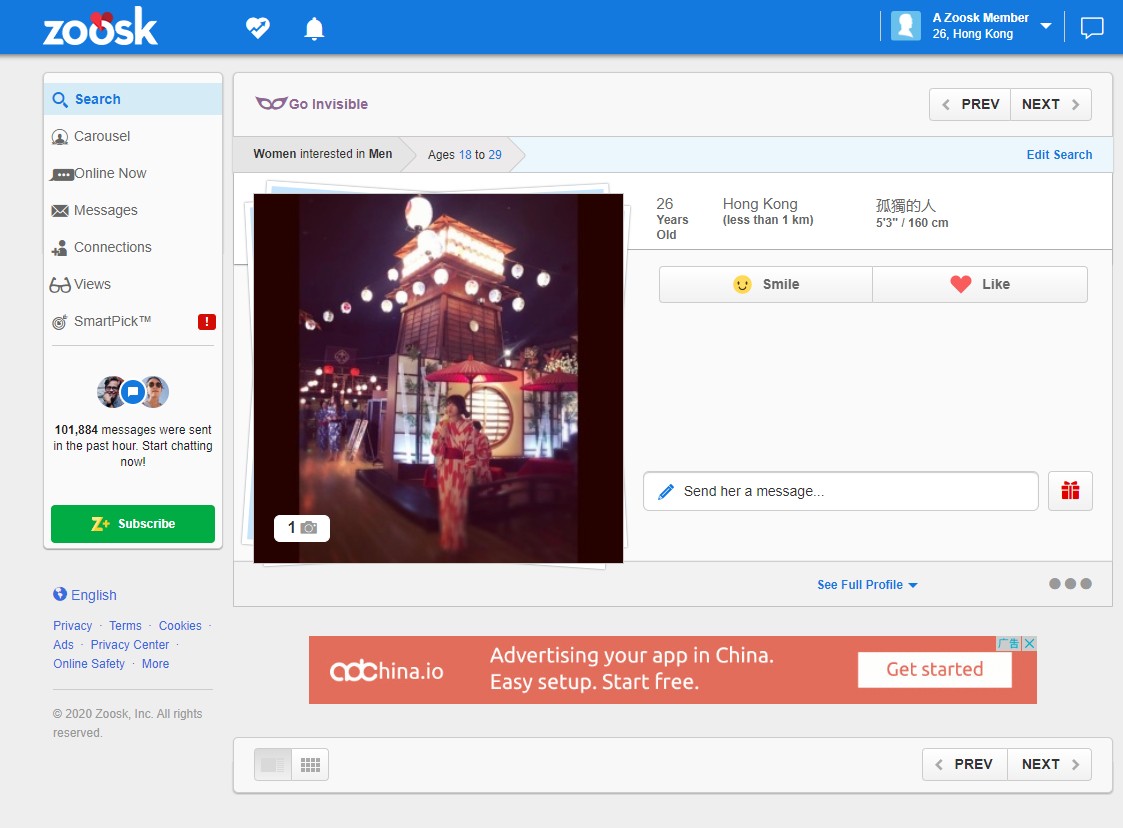 Women's profiles on Zoosk are considered noticeably concise with a few photos and a bit of information they have chosen to share about themselves.
To facilitate the match-making process, Zoosk uses the answers to the questions you provide during registration and other activities on the website to analyze your preferences and offer you more precise matches. Zoosk calls it Behavioral Matchmaking. However, so far, we haven't noticed any results from the system, and some people may find this freaky.

The better and faster way to discover the love of your life, we believe, is to use Zoosk's Carousel function, which works similarly to Tinder. Each lady is shown one after the other, and users need to "like" or "skip" the current women displayed before being able to see the next one. If the girl you have liked likes you back, you will get a notification and be able to take the relationship further by "smiling" at her, adding her to your list, or sending a message or a gift. Most of these features are only available to paying members though.
There is a third way to find your special someone – the search function – if the first two didn't return you any women to your liking. This function gives you more control over the kinds of ladies that are returned as the search criteria are pretty detailed. You can specify several parameters, such as the age range, location, love history and preferences of your potential matches. The results of the search will then appear in a "gallery", which is not really a gallery. Profiles are displayed in a list of one profile per line, meaning you may have to keep scrolling for ages before you come across someone you like. It probably would have been better to arrange the results in a neat grid, which would allow users to browse much more quickly and efficiently.
Pricing
Zoosk is one of the few dating websites that do not offer many free services. Unless you are a paying member, you will be able to view profiles of women and play the Carousel game, and that is it. You will need to pay for anything else you do, including sending messages and seeing who "liked" you.
Membership costs $29.95 per month if you go for the one-month subscription plan, or $12.49 per month if you wish to commit to six months. There is also the Zoosk coin system, which is virtual coins users can purchase in packages and spend on virtual gifts or boost their profiles. 180 coins will cost $19.95 and 1800 $99.95. Coins can also be earned by completed various tasks on Zoosk.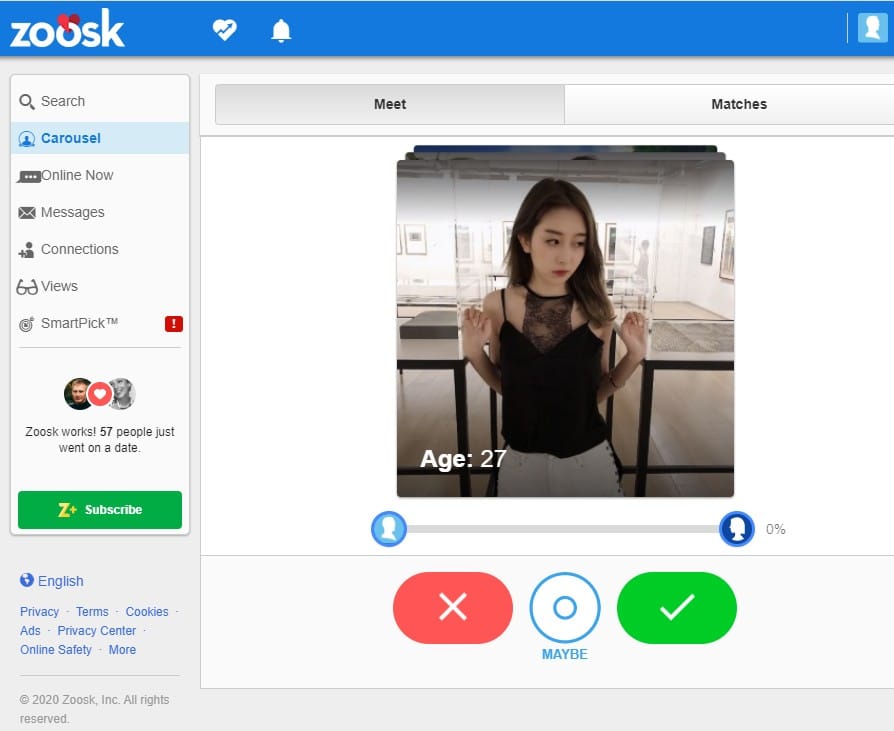 Safety
Zoosk takes the safety of its members pretty seriously, which is evident from the various safety measures it complies by. Its website is encrypted and offers a range of safety guides for its members, and profiles are verified to give users peace of mind when meeting someone they don't know. However, there were not actually that many profiles with the "Verified" badge but numerous obviously fake ones.
Summary
The functionality of Zoosk is somewhat undeveloped and the most crucial services are only available to paying members, which is not very attractive to potential users, as they don't know what they are signing up for until they purchased a membership. It is not the worst dating site out there but there are not sufficient exclusive features to make it stand out from the crowd either. If you want a honest review, you should try it by yourself.