Most of you have probably heard of Plenty of Fish (POF) even if you are new to the online dating world. Plenty of Fish is one of the most renowned dating sites in the industry, and it claims to be the most prevalent in the world, stating it has a total of 90 million users, over three million signings in on a daily basis and a total of over a million established relationships So, it is hard to deny the popularity of the website but, although these statistics might sound impressive, it is worthy to note that the majority of these relationships are between local members and not all user reviews have been 100% positive. The most common complaints are the low-quality user database, inadequate members available outside of the United States of America and the excessively complex design of the site. As a result, we have decided to do our own review to give an insight into the real deal of the platform.
Registration
Your love journey on Plenty of Fish begins with the registration process, just like on most other websites. But unlike other dating platforms, Plenty of Fish is very thorough and requires users to not only provide basic personal details, such as your date of birth and location but also fill out an extensive questionnaire, which can take some time to complete but will help improve your potential matches.
Profile Searching
Once the sign-up process is complete, you can dive in and scour for your potential matches in a number of ways:
The match system – Your compatibility with other members is automatically calculated and those with the highest percentage of compatibility are shown;
If you are not satisfied with the results provided by the mechanical match system or just want to look outside the automated results, there are three further search functions available:
Username search
Basic search
Advanced search – Users can manually set a variety of different criteria to match themselves with their ideal partners. But, bear in mind that the more conditions you set, the fewer results you get.
As soon as someone you are interested in catches your attention, you can take it further by opening the full profile of that lady. However, only paying members can see the complete profile, so unless you want to pay, you will only see the concise version, which still includes a couple of profile pictures.
Communication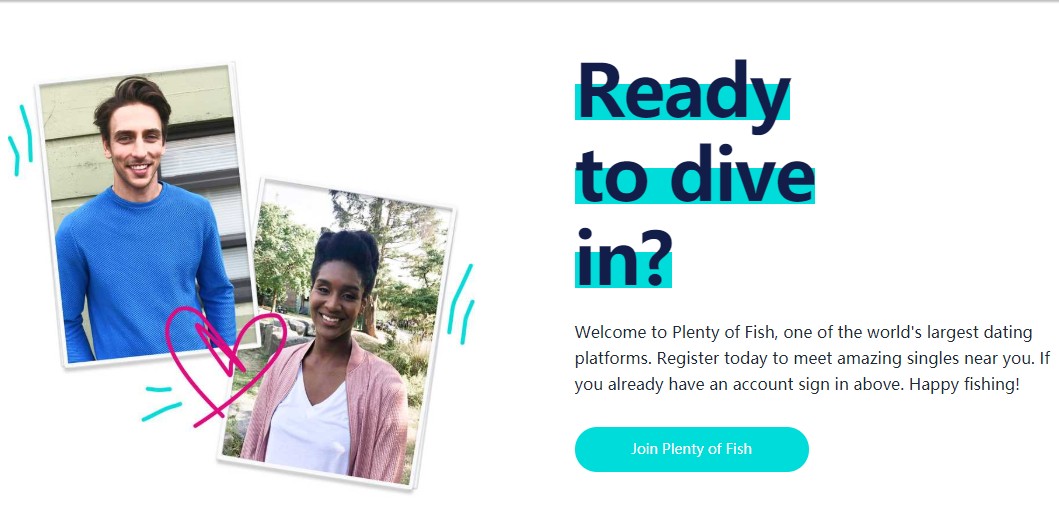 The communication functions at Plenty of Fish are pretty limited, which are mostly in the form of exchanging messages. There is a recently-launched voice message function though, which you can attach to give standard messages in the text a bit of flavor.
Design
In order to keep up with the times, Plenty of Fish has recently been made available also on Apple's iOS and Android in addition to the traditional desktop version. With Plenty of Fish's mobile apps, all the functions that were available on the desktop can now be enjoyed wherever you are, allowing users to stay in touch 24/7. For some of those who don't want to download the app, you can also use the mobile website version. While the design of the desktop site is jam-packed with unnecessary bits and annoying ad banners, the apps are actually somewhat more accessible and simplistic, making the user experience more pleasurable.
Member Database
If you are looking for someone from the United States of America, then good for you, as the majority of Plenty of Fish members are located there. However, chances are a lot of you are probably wanting a girl from other areas, which may be a difficult mission to achieve because of this low member-location diversity. So, for example, if you prefer a sexy exotic Russian or Ukrainian babe, you will find better results trying other international sites specialized in girls from Russia and Ukraine.
Pricing
Surprisingly enough, Plenty of Fish gives users access to a generous number of essential features all free of charge without having to pay a cent. These include creating an account, viewing your matches, using the search function and exchanging messages. With a paid membership, however, you will be able to see extended profiles, appear more in search results, find out who has viewed your profile and whether your messages have been read, and get rid of ads on the website. There is a minimum sign-up period of two months though, costing $19.35 a month. For those of you who are ready to commit yourselves to the site, you can purchase an eight-month membership, averaging out to be just $10.18 a month. But we do suggest trying out the platform first before constraining yourself, as eight months is a long time.
Security
The only thing Plenty of Fish really does to keep its members safe is using Secure Sockets Layer (SSL) encryption throughout the website. Apart from this, there is pretty much no other privacy or security practices, including no profile-verification procedure, which is extremely important for any dating website. This means a romantic conversation with a strikingly gorgeous woman could end up with your having a depressing heartache. Nonetheless, Plenty of Fish does provide some guidelines on how to stay safe while dating online despite being more like common sense than useful special techniques or safety measures.
Verdict
Plenty of Fish has a number of merits, including an enormous catalog of members, advanced search functions and the majority of its vital elements' being all free of charge to use. To say whether it is a decent site all depends on the kind of girl you are looking for. If you are interested in women from the United States of America, then there is plenty of fish in the sea. But if you prefer those from other countries, then we suggest looking elsewhere, at dating sites specialized in specific regions as Plenty of Fish's database region diversity is pretty limited.