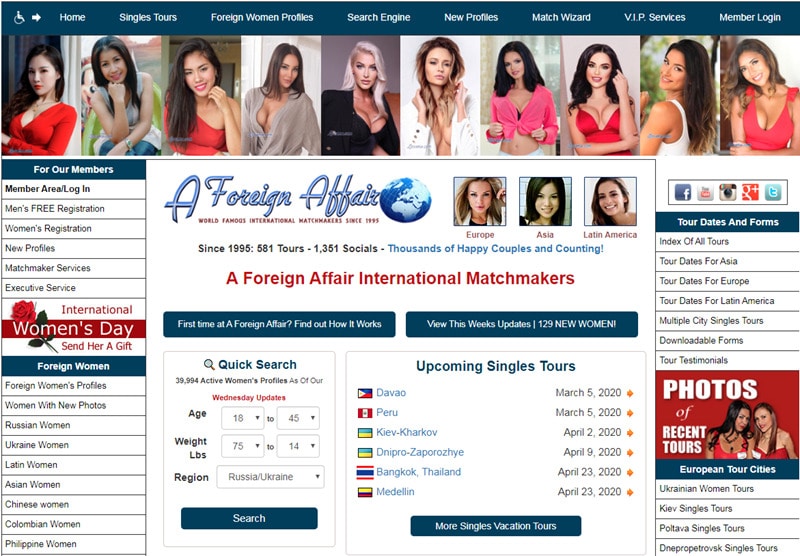 If you are an experienced online dating service user, you will probably have heard of LoveMe.com. In fact, it was first launched in 1995 under A Foreign Affair, its original name, which is still broadly used and pops up quite frequently on the site. From the very beginning, LoveMe has always been designed to satisfy a very specific audience –males in search of foreign brides, which explains the narrow range of ladies found on the site – Russian, Ukrainian, Latin American and Asian women.
Although having a long history, its reputation among users is not all good, with some even claiming that the platform is not entirely honest and others experiencing various hitches with the services it provides. We are going to go through these in more detail now, as well as LoveMe.com's features and pricing, with an all-around comprehensive review.
How it feels
As soon as you land on LoveMe.com's homepage, it will feel like a site from the early 2000s. Not only does the design and user interface appear old-fashioned, but also the navigation isn't very accessible. It will take the average user a long time to find what he is looking for, as the site is muddled with too many photos, links and other information.
Signing up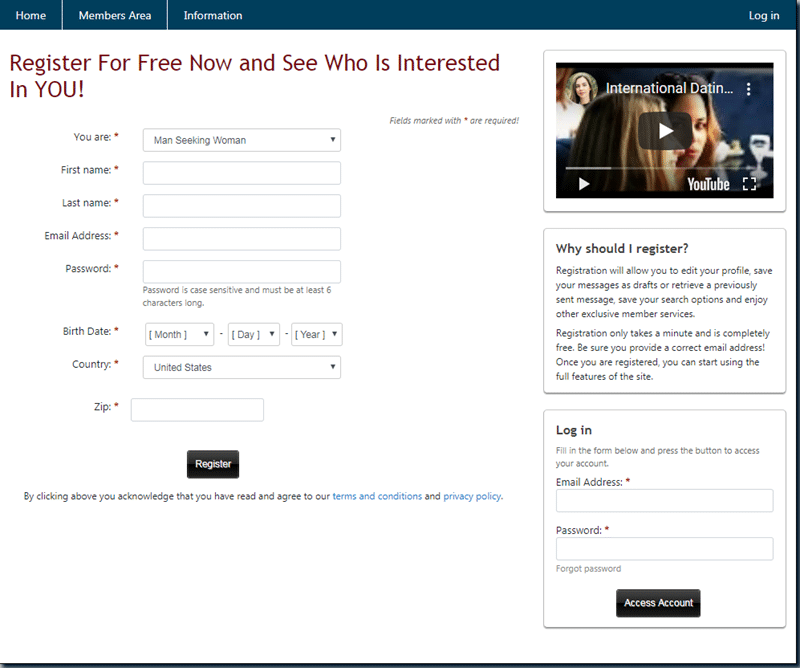 LoveMe.com is one of the few sites where you can have a browse around before registering and creating an account. As mentioned earlier, there are four categories of women – Russian, Ukrainian, Latin American and Asian – which are all divided neatly, and you can take a peek at the women available before deciding to sign up.
Nonetheless, this is as far as it goes, unless you create an account. If you want to start communication, you will have to register, and you can do this by clicking the registration button in the menu on the left of the homepage. You will need to enter your basic personal information, such as your name, date of birth, current location, and create a password.
When you think it is this simple, you are wrong. After filling in the above details and clicking on "Register", you will be asked to answer some questions about your marital status, occupation and dating goals. You can also specify where you prefer your women to come from. Once the questionnaire is completed, the registration process is also finished, and you can move on interacting with the women of your dreams.
Communication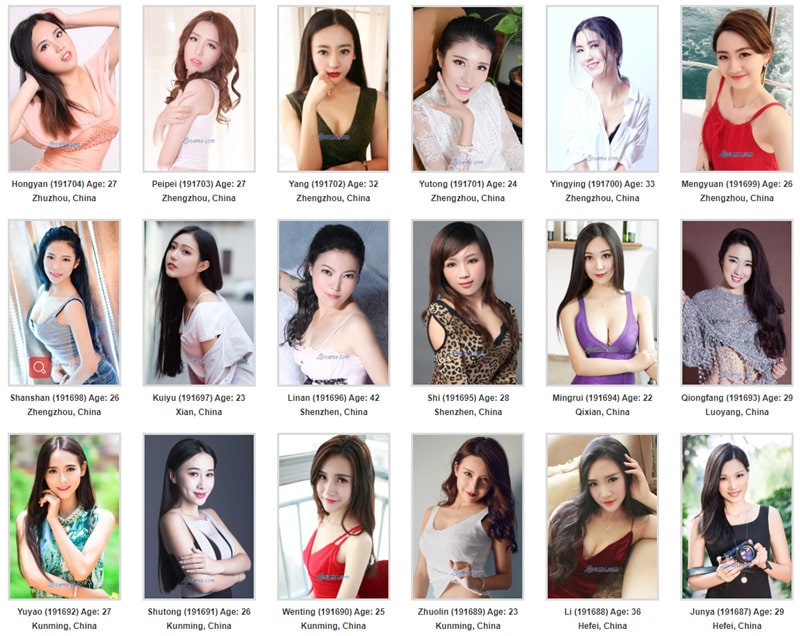 You can tell that LoveMe.com has a long history and was established at a time when the internet wasn't as widespread as it is now when you see the communication services available. You can enjoy not only online interaction but also exchange letters the old-fashioned way through mail. You can also send her a message, arrange a call, or send her a physical gift.
LoveMe.com is perhaps the only international dating platform which organizes regular tours for its members to meet single women. Any LoveMe member can sign up to a tour to Russia, Ukraine, Latin America or Asia, and everything will be arranged for you, including buying plane tickets and introducing single women.
Women's profiles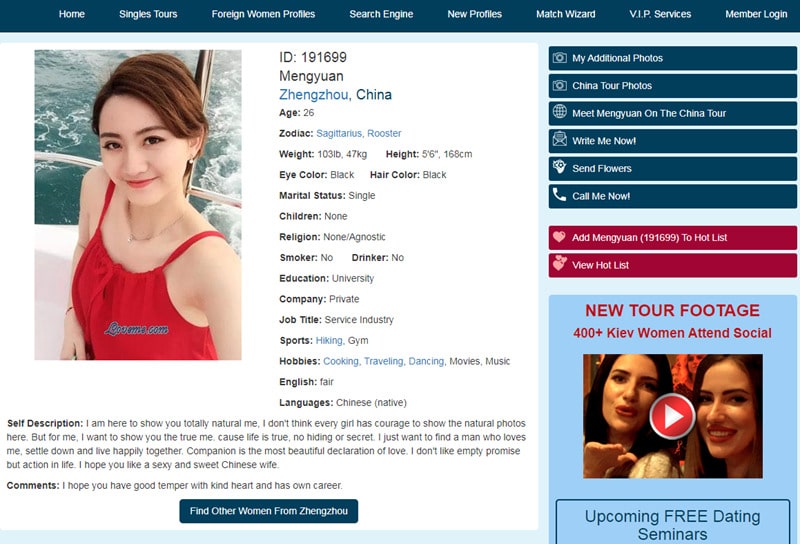 LoveMe.com has a reported number of more than 50,000 active women, which we believe is undoubtedly more than enough for most men to select from. Women are categorized into the country they are from, which you can find on the left of the page, but if you want to be more specific about your preferred woman, you can make use of the search function. This tool is deemed to be fairly exhaustive in that you can specify numerous parameters. You can also search for women by keywords, by their interests, if you want to find someone who shared the same hobbies as you. The search results will then appear as a collage, showing the woman's name, age, current location, profile ID, height and weight.
Women's profiles on LoveMe.com are not considered particularly revealing, only offering the very basic details of the lady, such as her name, age, current location, marital status, whether she has children or not, and a couple of physical specifics. When you come across someone you are interested in, you can add her to your "Hot" list, which you can go back to later on to initiate communication and take the relationship further.
Pricing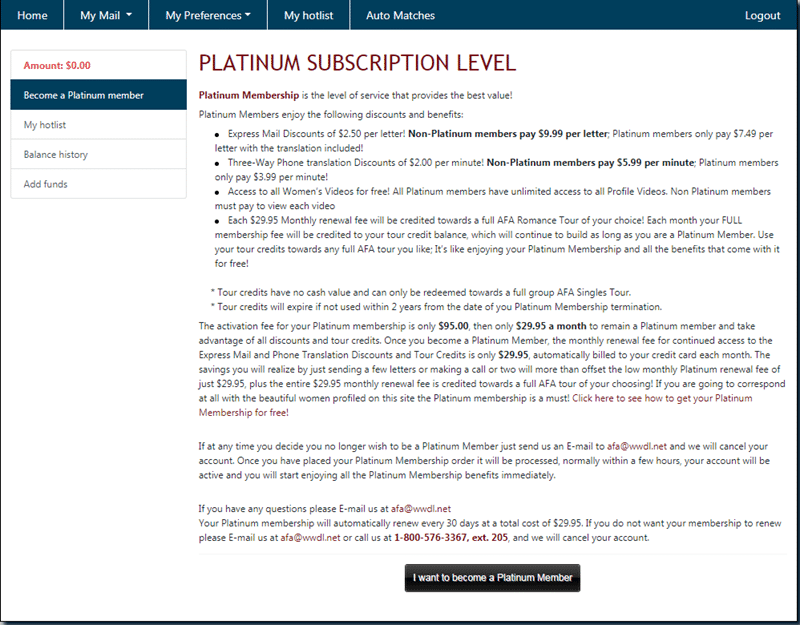 Creating an account and browsing profiles is free on LoveMe.com, but if you want to do any more, you will have to pay every time you communicate. How much it costs all depends on if you have subscribed to the Platinum monthly plan. For example, if you are Platinum membership, you pay $7.99 for each letter sent, while if you are not, you will have to pay $9.99. The Platinum plans costs $29.95 a month with a one-off activation fee of $95. LoveMe.com is considered one of the most expensive dating sites out there, at least of the ones we have reviewed anyway.
Safety
Although LoveMe.com claims that each and every profile posted its website is checked for authenticity, we don't believe that 100% of them are real. The platform does urge its members not to send money to other members, but that's about it. There are no further safety guidelines for men nor other safety features. Basically, LoveMe.com's safety measures are not considered to be sufficient.
Summary
LoveMe.com is certainly a site which you will not encounter elsewhere, but not entirely in a good way. You can have a peek at women's profiles to get an idea of what you are signing up for before signing up, and you can take part in singles tours, but that's really about it. The website is out-dated, the pricing is a bit expensive and the safety measures are a bit insufficient.