As long as you are a knowledgeable online dating platform user, you will be familiar with the various types of payment schemes different websites use.which are usually either a membership or a credit system. But one thing that is common among them all are the fact that only paying users can enjoy full functionality of these platforms. Except Fdating. With no exceptions or hidden fees, Fdating is one of the few dating websites out there that is truly free. But should you go for Fdating to find your true love just because it's free to use? Let's go into the details of Fdating and what it is really like.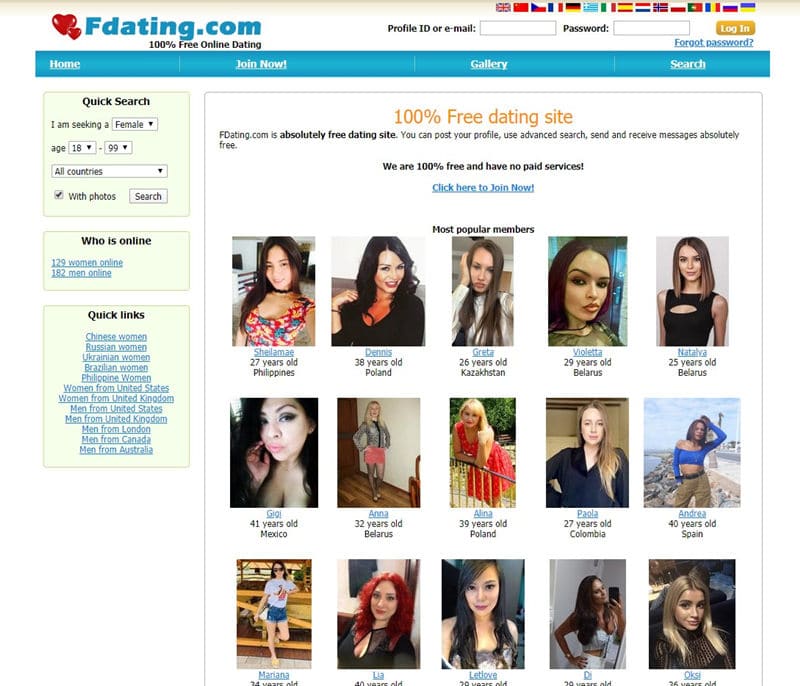 Homepage
When you first land on the homepage of Fdating.com, you will probably feel like you are visiting a site from the late 2000s. That's because Fdating was first launched in the late 2000s and no major overhaul has been done to the design since. However, we shouldn't judge a book by its cover.
Unlike most other dating websites, Fdating doesn't require you to sign up and create an account as soon you arrive on their site. Anyone can have a browse around before committing themselves.
In the middle of the homepage, you will find a random selection of men and women's profiles, on the left a basic search function and below that some links to some popular categories of members, such as Russian, Ukrainian and American women.
Registration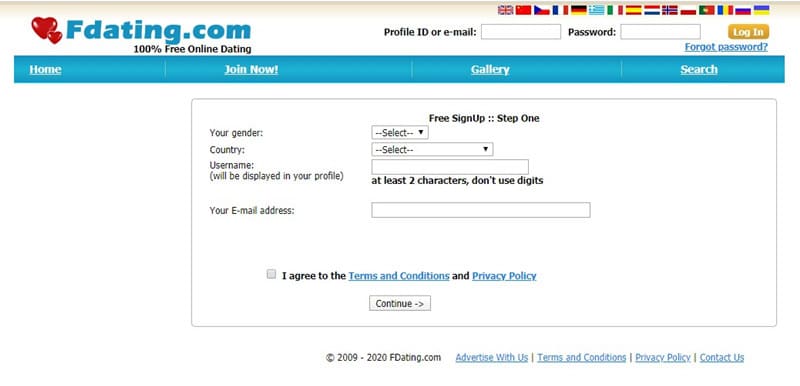 If you are happy with what you see on the homepage and want to see more, you will have to sign up, however. Unfortunately, Fdating doesn't provide sign up via Google or Facebook, so you will have to do it the old-fashioned way – via email.
If you like what you see and want to explore Fdating even further, you can sign up for the service by filling out a short registration form. Unfortunately, there is no opportunity to sign up via a Facebook or Google account — all registrations are done the old school way via email.
First of all, there is short registration form you will have to fill out, and then an extensive questionnaire. This is designed at making your profile stand out from the crowd and more attractive to potential matches. Some questions include details about your appearance, education and habits, such as smoking and drinking. An email will then be sent to the one you provide for verification purposes, which you will have to open and click on the link provided to continue.
Profile Searching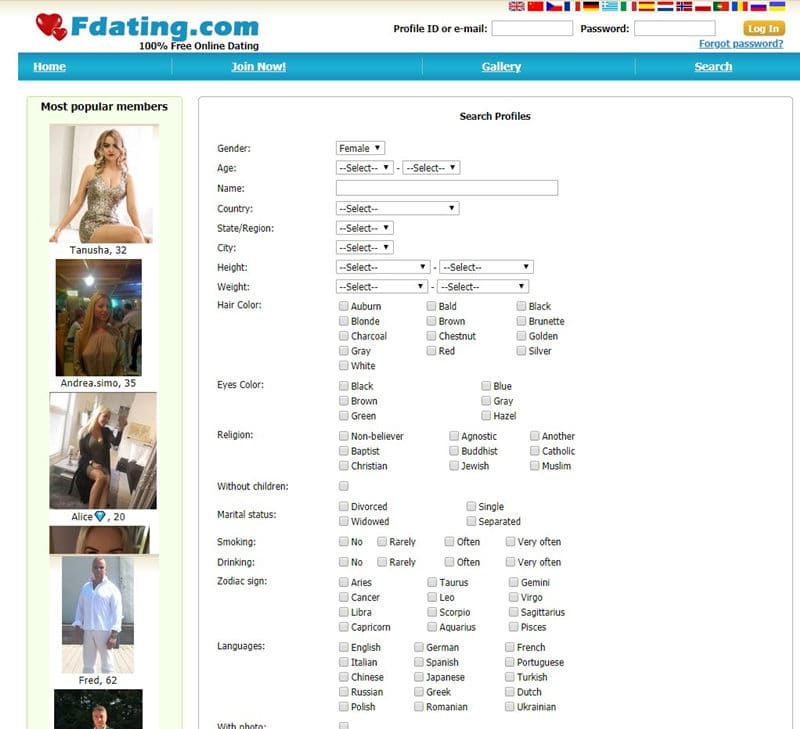 Members can search for profiles or different women in several ways, with the first being the one we mentioned earlier – by category in the left-hand side of the homepage. This method is useful if you have a specific type of women in mind, such as Russian or Ukrainian babes.
If you couldn't find a woman who catches your eye using the above method, you can try the Gallery function in the menu at the top of the page. The gallery will show selection of ladies at random by default, but you can use filters to narrow down the results. Filter available include age, location or a few others.
There is also the search function, also mentioned earlier, which allows users to search by setting various criteria, such as hair color, religious views and many more. This search function may appear very similar to the Gallery function, but they are actually quite different so don't confuse them. Once you have filled out all fields and click on the search button, a collage will appear showing the results of your search. Women's profiles on Fdating contain more or less the same information you filled in about yourself during registration, which include, her photo, ID number, age, current location, height, weight, what kind of man she is looking for and the last time she was online. As a result, it is fairly easy to see whether a woman is a good match for you.
When you have come across a lady you are interested in, you can add her to your favorites list and come back to her later, or send her a message. Fdating does not offer a great deal of communication tools – there is no chat function, exchanging of photos, viewing of videos or sending of gifts.
Pricing
Most online dating websites charge some sort of fee, even when they say it's completely free, but Fdating is quite the opposite. Everything, and I mean everything is completely free to use. There is no sign-up fee, no membership subscription, no additional features to pay for, no gifts you can buy for others.
Safety
Generally speaking, the more advanced an international dating platform, the safer it is. And, as we already know, Fdating is not really considered an advanced website, with few communication tools and other functions. Therefore, we didn't have particularly high expectations with regards to the safety and security of Fdating, and we were right.
Although there is an option to report abuse and contact the site administration, there is no quick customer support available. There are no safety guides or tips for users either. There is a warning not to send money to others though.
As for profiles, we found many of them look too good to be true, and this is backed up by many other Fdating reviews claiming that the site is full of fake profiles created to scam unwary members. So, if you do choose to use Fdating to find a partner, there is a chance you will be scammed, so be careful.
Summary
Fdating is a truly and completely free international dating platform, but that's just about the only good thing about it. And although this may seem attractive at first, Fdating's other aspects are worth taking into account when deciding whether or not to use it. Fdating doesn't offer the most communication tools nor the best anti-scam measures. Other sites may charge a subscription fee, but if you spend some time looking around, you will find some which are affordable, and provide better all-round services.