About Christian Mingle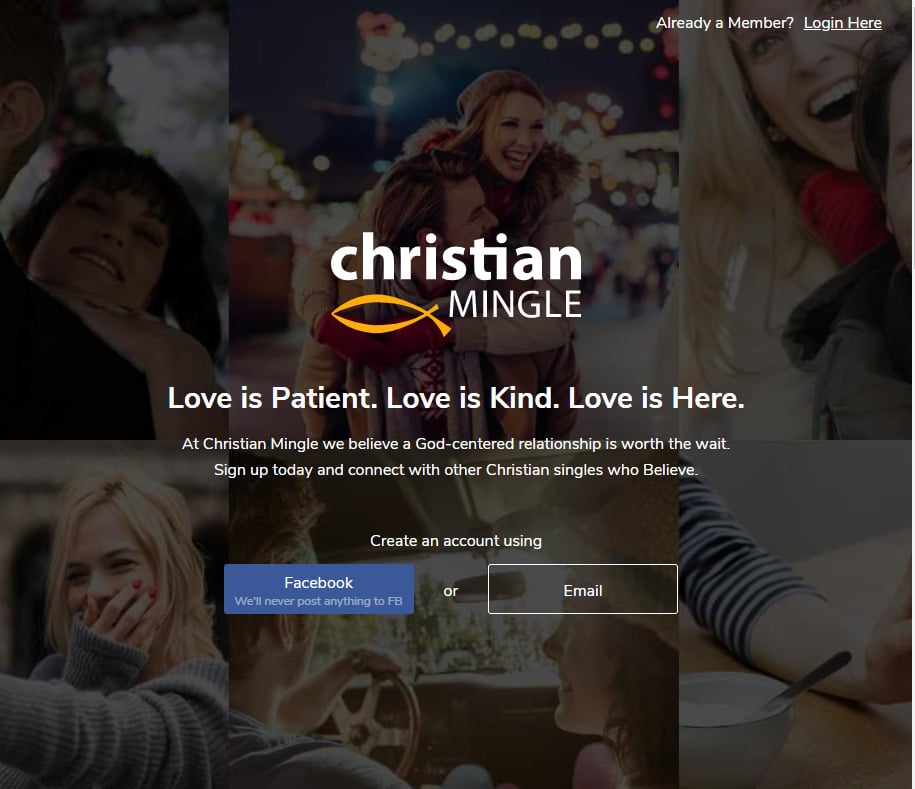 Christian mingle is a unique dating site that allows its members to search for a partner based around their relationship with God. In the niche market of Christian dating sites, Christianmingle.com has one of the higher number of members currently reaching over 16 million users who have registered world-wide since its launch with over 2.5 million of these being active monthly users. Members of the site are most commonly from the USA, UK and Australia. The site was launched by Spark Networks in the year 2001. The site allows users to search for someone of the same or similar faith who will be able to prioritise religion in their life and their relationship. This has a strong appeal to people who are looking for a faith-based relationship and is the ideal platform to start getting to know someone who shares your same religious beliefs.
Is it easy to sign up?
Christianmingle.com is a very easy site to sign up to. There are only a few details to fill in and several them multiple choice. You are required to upload one photo which is usually approved within 24-48 hours. The questions are very straight forward and focus on your religion, hobbies and what type of person and relationship you are looking for. There is a section for you to put a little more about yourself and you can enter as much or as little as you want. There is always the option to come back and edit this later if you are wanting to get started and keep it brief and then add more to it later. You will find Christian Mingle reviews allude to the fact the layout is aesthetically pleasing and easy to follow making it simple to navigate.
Is Christian Mingle free?
The initial sign up to the site is free but there are a number if features that are inactive with this level of membership and you are frequently prompted to upgrade your membership.
Free members can create their profile, view other members profiles and send them "smiles". If you would like to send message or view any of their photos past the first one you will be required to sign up for a complete membership. While the access on the free account is a little limiting it grants you the opportunity to have a look at the site and people's profiles before deciding that it is the right site for you. The free base version allows you to see what sort of profiles there are online and if there is someone you are interested in then you would likely want to upgrade. Once you have upgraded you will be able to view more than one photo on other people's profiles as well as upload more than one to your own.
Christian Mingle Cost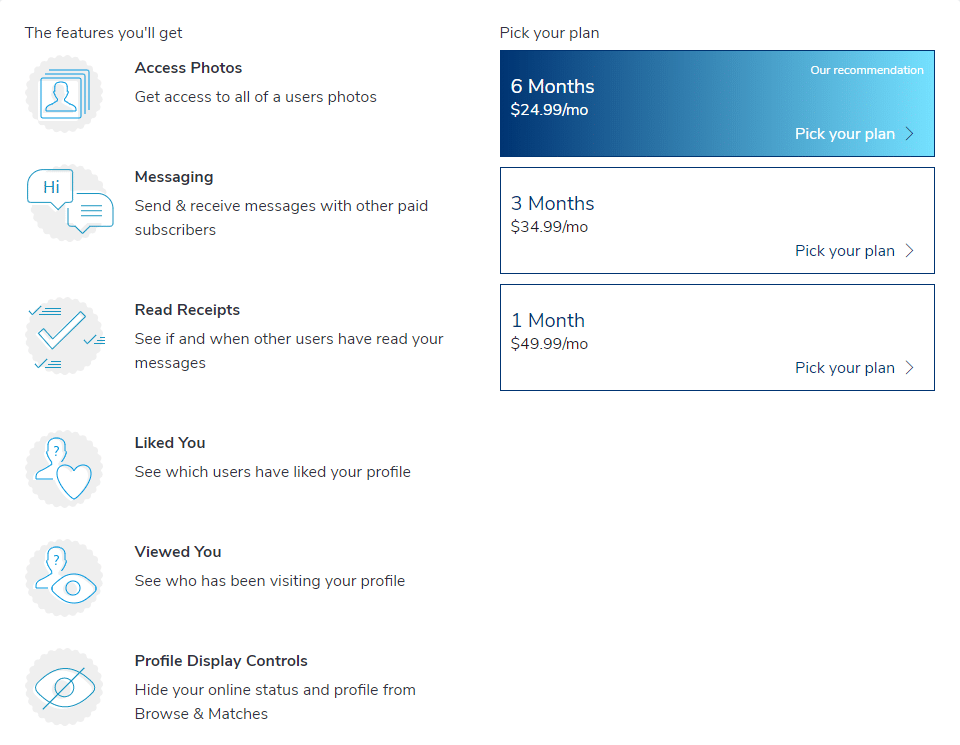 Once you have checked out the site and got as much as you can out of the free access options you are likely to want to upgrade to one of the paid options. There are 3 options with membership depending how many months you want to pay at once. These are all billed in USD.
One month is $49.99
Three months is $34.99 per month
Six months is $24.99 per month.
Christianmingle profile
There are number of questions on the profile, but they are quite streamlined and realistic. There are no obscure questions or games or quizzes for you to take part in. With the main membership base being late 20's to 40's they are more looking for streamlined information to let them know what their match is looking for. It covers things such as religion, kids, marriage and general interests such as styles of music and movies you are into.  While on a free membership you can look at other profiles and send them a like however you won't be able to message them until at least one of you is a premium member. The site has good security and will keep your surname blocked from other users viewing. You can choose to use your first name, or you can use a more secretive username if you choose. The site will immediately delete any fake profiles keeping the site more secure. Due to the high competitiveness of the site more users have filled out profiles as opposed to some other sites. With the high volume of users coming through people are more engaging and take more care with their about me section giving themselves as much of an edge as possible in such a large pool.
How does it work?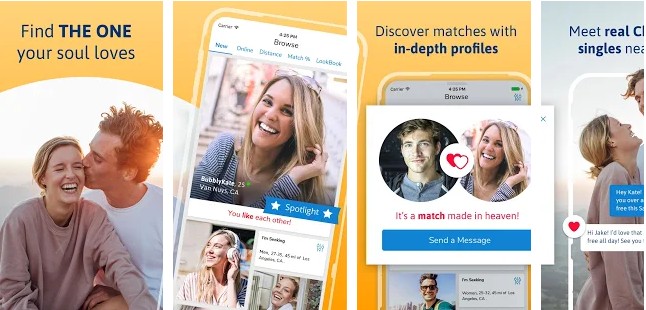 Christianmingle.com has a proven method of linking you up to matches based on the interests you have clicked. It will show you the percentage of match that the person is and once you click on the profile if will show in bold which interests were a match. Once you have found someone that you like you can start to message them if you are on one of the paid profiles. There are also chat rooms and forums which allow you another way of getting to know people.
The help section on the website goes through all the details as well of managing your subscriptions and email notifications. Along with any other questions that you have whether they are site specific or just about online dating in general.
All users must be over 18 to register. Photos need to wait approval to ensure they adhere to their policies and the company advises they reserve the right to terminate someone's account for them should they not be following the terms and conditions agreed to.
How to delete Christian Mingle account?
Once you have found your match or no longer require the services of the site you will likely want to completely delete it. As this deletion is permanent it is recommended that you copy any data you wish to keep as they cannot reinstate your account or retrieve any of its information. This means your profile and any associated messages will be gone with no way to be returned to you.
Its just a few simple steps to delete your account.
In the top right corner of your profile page you can click on the thumbnail of your profile picture.
Click "Account Settings"
Then Select "Profile Display settings"
Then select the "Permanently delete profile" option.
If you are using the app it is as simple as clicking the 3 bars in the corn that take you to your account menu. Tap the "Profile Display settings" option and then tap "Permanently Delete Profile."
Why choose Christianmingle.com?
The way the site is designed is very easy to navigate. The help centre has an easy to use search bar and easily broken-down topics to help you find answers to any of the questions that you have. Christianmingle.com reviews recommend it as one of the top sites for finding someone who shares your faith.  If you are unsure about the finances of it then you can always try the limited functionality for free first, then decide if it is worth it for you to complete the upgrade. It is one of the leading dating sites for Christians singles to meet like minded people to start a God centred relationship.