About Asiafriendfinder
Asiafriendfinder.com is one of the top sites for Asian singles to meet people. There are over 55,000 regular users making it a very high volume of members. The total amount of users is over 5 million with 1.5 million users in the United States. There are members from all walks of life. The ratio of men to women is 4:1 meaning that it is easier for women to find what they are looking for. The site is set up by Various Inc. who has been creating different dating sites since 1996. The site is aimed at people who are looking to find Asian partners, but it is not limited to people living in Asia. The site is presented in many languages to ensure that all its users are accommodated for.

Is it easy to sign up?
Asiafriendfinder.com has a simple sign up process. It starts with asking your name and date of birth. Then you are asked just a few questions relating to your interest, relationship status, race and gender. Then you will receive a simple confirmation email. Once you have confirmed your email you are able to start your search. You can set what is called your "Cupid preferences" which is where you can select the type of people you are interested in finding on the site.  After answering the simple questions, uploading a photo and confirming your email you will be able to begin browsing other users which will come up on the home page as soon as you sign in.
Is Asiafriendfinder free?
There is an option to use the free version, but this is very restricted on the functions that you can use.  Your interactions are limited. You can view profiles, but you do not have access to view anything bigger than thumbnails of photos. You also have no ability to contact others. If you do manage to attract the attention of a premium member, they will be able to contact you but otherwise the messaging function is unavailable. The free membership does allow you to access the pages, blogs and chat rooms.  In order to get the full experience from the site you would be required to sign up for a paid membership.
Asiafriendfinder Cost
Once you have used the very minimal functions on the free account you can decide if you would like to upgrade your account. There are two levels of membership that you can choose and each one has different time frames that you can sign up for an that will affect the amount that you pay for the membership. The Gold membership is the top tier and at this stage they have a deal where if you sign up for 12 months you get 6 months free making it currently the best deal at $7.96 per month. 3 months will be $17.71 per month and one month is $27.37. If you are interested in Silver membership 12 months will set it at $8.32 a month, 3 months is $13.95 and 1 month is $21.57. They are all billed at the total of the months you have selected.
Asiafriendfinder profile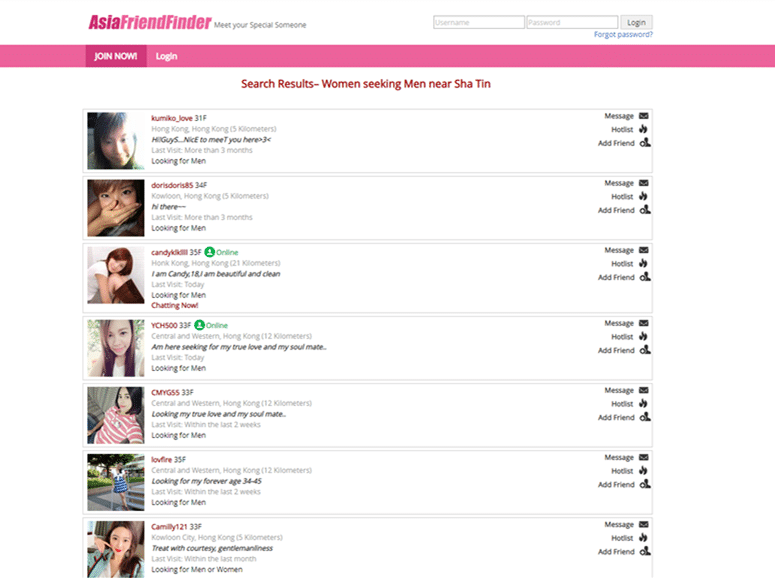 You have the option to upload several photos and include a bio along with the answers to the questions that you were asked upon signing up for Asia FriendFinder. Once you have upgraded to the paid profile there are numerous ways to interact with other members. You can send them a flirt, become their admirer and send messages. There are options for singles blogs. There are many ways to get in touch with other members once you are interested in. On a free profile, you will not have much access to the profile's interactions, but you will have access to all the functions on the site. Your profile is your own and in the bio you can write as little or as much about yourself as you want to attract the attention of other users.
How does Asiafriendfinder.com work?
There is a lot more to the site than just the standard click and interact with members. When you first sign in you will be greeted by a page of profiles showing you other members that you might have things in common with. You will also have notifications of people who have viewed your profile, flirted with you or added you to their hotlist. Once you have used these functions there are blogs you can post on and read, groups you can join, the magazine where you can post articles and you can add bling to your profile which are small icons that you can add to various sections of your profile and your signature. They have released a new function called hot or not where you can flick through profile pictures and select hot for the ones that you like and not for the ones you don't. As a free member, you can see who has viewed your profile and who has hot listed you. You also have access to the chat rooms. There is a variety of chat rooms including English speaking rooms and rooms decided by their geographic location. The socially interactive nature of the site is likely why there are so many members staying engaged.
Online dating security
While the site has its staff working to make sure fake profiles and scammers are removed from the site sometimes someone will still slip through the cracks. The site has the option for you to report anyone that you think should not be on the site.  Always make sure that if someone requests you to send them money that you stop engaging with them right away and never send money. Set your own rules and barriers when it comes to contact off the site and if you ever eventually meet up.
Why choose Asianfriendfinder.com?
This asiafriendfinder review has shown the site is versatile. There are a lot of engaging ways to interact on the site. With a high international member base, there are people you can connect to all around the world. The unique functions on the site make it different from any other where there are so many options to interact as well as just viewing profiles. The site is heavily moderated, and every profile is confirmed before it can go live. The security of choosing a username instead of your name means that your account is more private and secure from other members. Any users who have been inactive for more than 6 months will; have their profiles deleted.  All the functions including the blogs, magazines, bling and chat room all make the site very interesting to use. With all that, once you upgrade to a paid membership, with the Gold 12months being the current best value, there are so many ways to interact with other members. The help page has an extensive list of questions to cover any issue that you might encounter. The social community on the site makes it very engaging and will keep you coming back even if you are not looking for love. The website is inviting and easy to use with a clean crisp layout. If you are looking to meet Asian singles, then Asia FriendFinder is the site for you.