Why choose AfroRomance.com?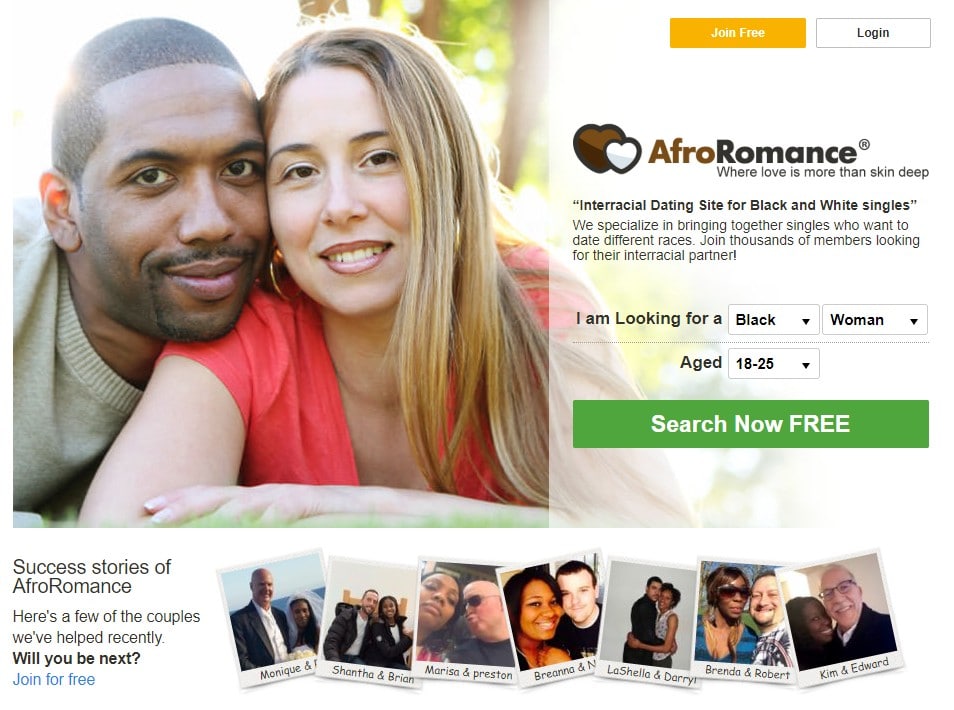 In the recent years, singles' finding and meeting their true soul mates has become a much easier and comfortable process, thanks to the development of technology and the online dating culture, and AfroRomance has taken advantage of this opportunity to create a website to promote cultural diversity. AfroRomance.com is an online dating site aimed matching African Americans to whites, whether in their area or anywhere in the United States, and has over 40 thousand likeminded members.
As stated on their homepage, 'Race doesn't matter when looking for love.' Interracial dating has always been a complex subject in all parts of the world, but AfroRomance has made an effort to overcome these issues. Now that ethnic differences are slowly dissolving, people are becoming more accepting and understanding of cross-cultural relationships.
There are countless websites, such as OkCupid, Tinder and Match, where you can date singles from different ethnic backgrounds, but none of these focus on black and white relationships. The generality of these sites makes it hard for those with clear aims of finding someone of specific races to succeed in doing so. But at AfroRomance, every user knows exactly what they're looking for – a black-white relationship – removing the awkwardness, and increasing the chances of success.
Membership and Pricing
Like most other dating platforms, AfroRomance offers a free basic account and paid subscription plans. With a basic account, members can search for matches and send a limited number of messages a day. Basic members won't be able to see if they have been "Super Liked" or sent a poke or flirt though. Although you can do many things with a basic account, it is a bit limited so you may want to check out the paid memberships.
There are three paid subscriptions available – pay monthly, per three months and per six months. Users will receive different discounts, promotions and features depending on the membership option they choose. Memberships need to be paid for upfront and are set to renew automatically by default, but you can switch off auto-renew if you don't want this option activated. Normally, the six-month plan averages out to be cheaper than the three-month plan, and the three-month plan to be cheaper than the one-month plan, so if you're planning to use the site in the long run, it is recommended to opt for the longer subscription.
By choosing paid subscription plans, members can benefit from some extra functions, which are locked with the basic account. These include profile browsing and messaging, being able to see who visits your profile and sends you pokes/flirts, and being able to boost your profile to reach more members. With all these additional features, a paid membership is undoubtedly worth considering.
Profile Creation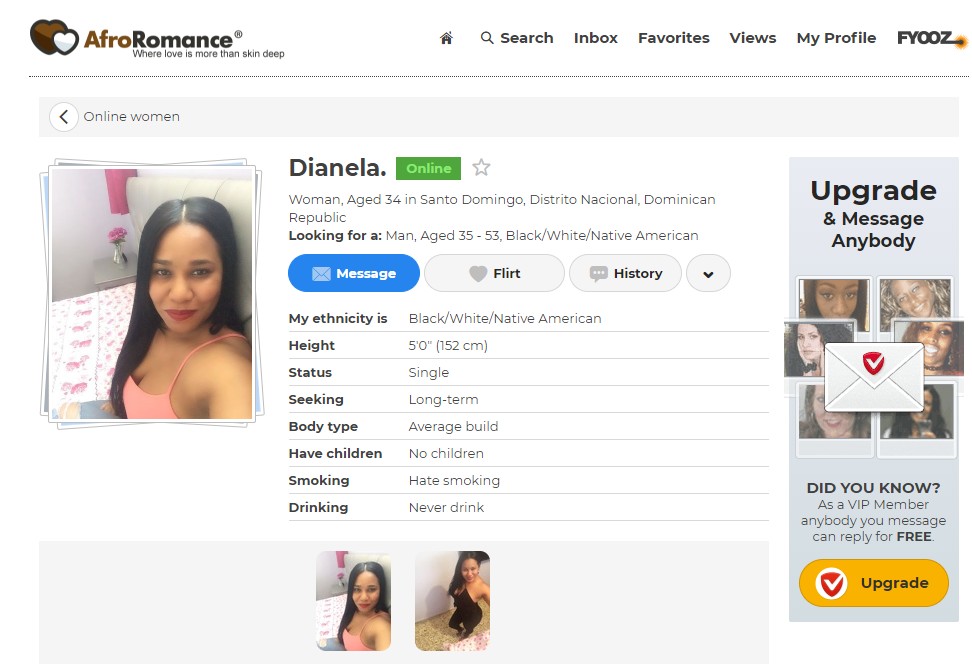 AfroRomance has a comparatively simple registration process, compared with that of other online dating sites. The basic profile on AfroRomance includes a short paragraph of about 20-30 words with a profile picture. Users are encouraged to write something unique and fun to stand out from the crowd, which gives other members a better sense of who is genuinely interesting and who is there just for the sake of it.
Other details you can include in your profile include the reason you are here, what you are looking for, your profession, hobbies and a few other details. You can opt to fill them all out at registration or come back to it at a later date.
AfroRomance recommends users connect with their Facebook or Instagram accounts in order to import photos from their already-existed profiles, which is pretty handy, saving you time on taking new photos. Users are also reminded that photos are an crucial part of any online dating profile, as it will always increase the chances of someone clicking on your profile. Don't use fake photos either as you will be found out sooner or later.
You will notice, while you are browsing through profiles of other users, that they can be quite different. Some will choose to include full descriptions like an autobiography while others will include just the most important things, such as favourite food or movies etc. So do have a browse around – you may come across some interesting and unexpected profiles.
Special Features
Unlimited profile browsing: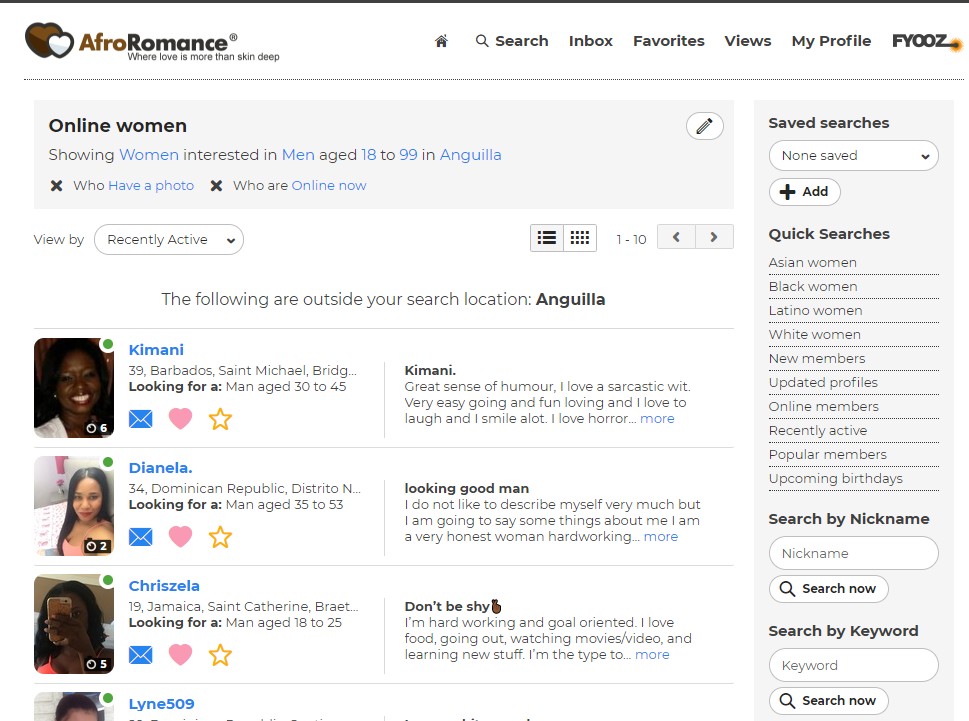 Profile browsing and searching with filters is limited for basic-account members. You will only be able to see a limited number of matches from your area. Once unlocked with a paid subscription, you will be able to see all available matches in your vicinity, as well as those from the entire United States.
Profile boosting:
Profile boosting is a convenient tool that puts your profile in the top 5% of search results, significantly amplifying the volume of matches you receive a day, in turn increasing your chances of meeting your perfect someone. By upgrading to a one-month subscription plan, members get one free boost; for two-month subscribers two free boosts, and so on.
Unlimited messages:
Members with a basic account can send up to 10-15 messages a day. Once the quota has been reached, you will not able to respond to received messages. However, once you upgrade to any paid membership, this feature will be unlocked.
Sending flirts/pokes:
Flirts and pokes are not available for sending for members with a basic account. Although you can receive flirts/pokes, you will not know who they are from. This is unless, or course, you upgrade to a paid subscription. Flirts/pokes are an effective to attract attention of potential matches without having to write a message, perfect for those who are timider. According to statistics, senders of pokes/flirts as well as normal messages have a 30% more chance of receiving a reply.
Incognito browsing mode:
Like OkCupid and Tinder, members can "stalk" others by using the incognito browsing mode, meaning you can check someone's profile out without their knowing. This mode is excellent for seeing whether the user interests you before you dive into communication. This function is also available only to paid subscribers.
Verdict
AfroRomance.com is considered one of the most popular interracial dating platforms in the United States with genuine success stories. With a quick and easy registration, easy-to-use interface, free browsing of profiles and replying to messages and flirts, it is definitely worth a try. The only downside is there is no mobile app available, so you will have to stick with their desktop or mobile site. Quite a few useful features are only available to paying members too, but do you get what you pay for.