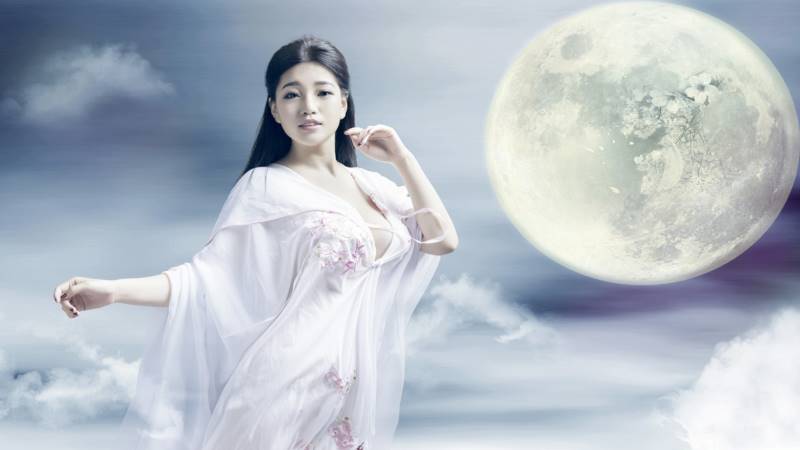 If you want to impress Chinese brides, the upcoming Mid-Autumn Festival is the best time to do that! You can show your creativity while respecting Chinese culture. Your lady will surely appreciate your commitment and attention. With a perfect gift for the Mid-Autumn Festival, you will show her how open-minded and flexible you are! Perhaps you didn't know much about this festival before; now is the time to learn more and surprise your Chinese beauty.
What is the Mid-Autumn Festival?
Mid-Autumn Festival, also known as the Moon Festival is the 15th day of the 8th month of the lunar calendar with a full moon at night, corresponding to mid-September to early October of the Gregorian calendar. In 2020, Chinese people will celebrate the Mid-Autumn Festival on Thursday, October 1. Families celebrate the festival by admiring the fullest and brightest moon of the year according to their beliefs. For Chinese culture, this festival is extremely important. It's a tradition for mature Chinese women to celebrate the Moon Festival. Since a young age, they have accompanied their families in celebrations and they want to keep doing it even when they become independent. They pass the tradition to the next generations. As a foreigner, if you respect these traditions as well, your Chinese woman will appreciate it immensely.
Best Moon Festival Gifts for Chinese Brides
1. Mooncake
Mooncake is a Chinese dessert that became one of the symbols of the Mid-Autumn Festival. Chinese wives love to receive mooncakes of different flavors! You can buy a mooncake during the festival or you can make your own. There is a variety of recipes that allow people to make mooncakes at home. Some of the classic flavors are lotus seed paste, five kernels and roast pork, ice cream, chocolate, and red bean paste, among others. Find out the favorite flavor of your girl or surprise her with something new! A homemade mooncake is a great gift! If you really cannot make it, it's okay – just buy one. However, if you are skillful in the kitchen, your woman will appreciate it much more if you gift her a unique mooncake that you made.
2. Tea Gift Box
Hot Chinese girls enjoy different tea flavors. You can buy a gift box with a variety of tea flavors and your lady will love it! Tea gift boxes come in different sizes and packages. Several companies make custom gift boxes that you could use. If you have a specific design in mind, you can order a good-looking chest, buy high-quality tea flavors, and pack them all together! In case you have a favorite flavor, you can use this chance to help your woman get to know you better. It will be a unique gift that suits the Moon Festival perfectly! In addition, you can purchase multiple tea sets to complete your original gift. Teapots, tea sticks, and mugs are some of them.
3. Treat Box
Dating a Chinese girl involves many sweets and desserts! Even if you are not a fan of sweets, you will start liking them by her side. Chinese treats are different than other sweets that you know. They are not unhealthy and caloric like typical treats from other parts of the world. You can try black sesame rice balls, rice cakes, sweet red bean soup, and other desserts. You will be surprised by the good taste! For the Mid-Autumn Festival, you can give your lady a treat box of unusual treats. You can buy a mix of sweet and salty treats that you like the most. Then, put them in a nice box, along with a thoughtful message! Girls from China love to try new things so you can experiment a little further. For example, multiple international companies send treat boxes to people all over the world. If you meet ladies on Chinese dating sites, you may not be able to give her a gift in person. In that case, such treat boxes are the best choice.
4. Festive Home Decors for Beautiful Chinese Girls
Chinese marriage involves many celebrations every year. To show solidarity, open-mindedness, and commitment, you can buy festive home decors for the Mid-Autumn Festival. Browse the internet for interesting, rare Chinese home décor, especially pieces related to this festival. You can also go to the local store and find adequate gifts. When you give this gift to your Chinese girl, you can be completely sure that she will be happy! In fact, your gift will decorate her house the next day! The present could include an origami lamp, luminous paper lanterns, and many hanging lighting decorations.
5. Custom Gifts for Chinese Mail Order Brides
There is nothing better than a custom gift! Whether it's for the Moon Festival or any other occasion, your girl will love a customized present. In this case, your options are wide! Your gifts could range from pastries to home goods so all you need to do is be creative. Chinese mail order brides like to cherish the traditional spirit. For that reason, you should bring it to life often. A set of porcelain mini cups with Chinese symbols, a mooncake wooden mold, or a soap mold are great ideas! Not only you will surprise your girl for the Mid-Autumn Festival; those gifts will stay with her long after it's over! They will remind her of your effort and respect for her culture.